YouTube Copyright Apocalypse

Thu Dec 12, 2013 9:43 am by Mecha
Comments: 17
Fallout 4 Exists

Thu Dec 12, 2013 12:08 pm by Mecha
Comments: 2
NSA is spying on gamers!

Mon Dec 09, 2013 11:30 am by Mecha

Quote :

America's National Security Agency is reportedly spying on players using Xbox Live, World of Warcraft, Second Life and other services.

The report follows a joint investigation carried out by The Guardian, New York Times, ProPublica, and backed bydocumentsunearthed by whistleblower Eric Snowden.

NSA records indicate that the agency sent …


[ Full reading ]
Comments: 6
"I know I'm a douche": Hoaxer explains why he created fake Fallout 4 website

Mon Dec 09, 2013 8:42 am by Mecha

Quote :

Fallout 4′s Survivor 2299 teaser site was confirmed as fakeby Bethesda over the weekend, and now the perp behind the prank has come clean to explain why he did it.

We posted Bethesda's confirmation here.

The hoaxer took to this Reddit AMA to discuss the ploy, colourfully titled, "Uhm, Hello? I'm the Prick behind thesurvivor2299." …


[ Full reading ]
Comments: 1
RUMOR: Mass Effect 4 to be shown at Spike TV's VGX

Fri Dec 06, 2013 5:42 pm by Duke
http://metro.co.uk/2013/12/06/vgx-preview-fallout-4-mass-effect-4-and-uncharted-4-reveal-exclusives-4220089/
Although most gamers know about E3, and to a lesser degree its European counterpart Gamescom, almost no-one has ever heard of the Spike VGAs. That's despite them having been going for several years and hosting the debut of major games ranging from Mass Effect 3 to Skyrim and The Last Of Us. After a slight rebranding to VGX this year's event is due to take place this weekend, and you'll be surprised at just how important it's going to be. The reason the VGAs are so obscure is that they're a US-only TV show that is only shown on American channel Spike and has previously been almost impossible to watch anywhere else in the world. There's no hands-on previews like E3, just an awards show that nobody cares about interspersed with embarssing c-list celebrity apperances and dozens of brand new trailers – many for games that have never previously been annouced. What logic convinced publishers that such an exclusionist event would be the best place to unveil their new games we can't imagine, but this year at least we're promised that it will be easier to watch online. There are various streaming options detalied on the official website but that's still almost irrelevant because the show doesn't even start until Saturday at 11pm in the UK, and it goes on for three hours. But don't worry, we're willing to suffer sleep deprevation on your behalf and when you wake up on Sunday morning the site should be swimming in news and trailers. Although exactly which ones we can currently only guess at… wrote:

Fallout 4 was also rumored, but that rumored has officially been squashed now.

Interesting. I would love a new Mass Effect game for the PS4/Xbone that would be a new beginning for the franchise. …

[ Full reading ]
Comments: 23
Call of Duty: Ghost is the top-selling game in the UK

Mon Dec 09, 2013 8:53 am by Mecha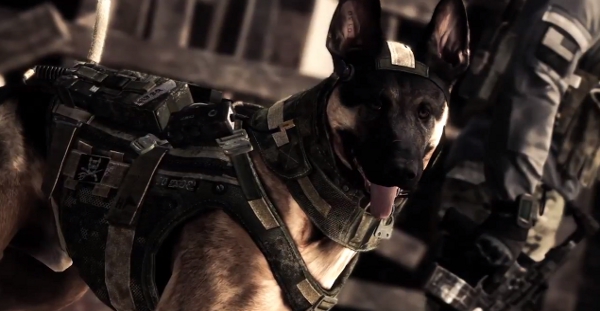 Quote :

Gran Turismo 6 has entered the UK game charts at 8th this week, while Infinity Ward's Call of Duty: Ghosts holds the top spot.

It follows our Gran Turismo 6 review round-up. Get all the scores through the link.

You'll find the chart below. Eurogamer adds that the superb Super Mario 3D World is still being outsold by PS4 debut Knack, …


[ Full reading ]
Comments: 3
DICE: No Battlefield game for 2014

Sat Dec 07, 2013 5:09 pm by Duke
http://www.ign.com/articles/2013/12/07/dice-isnt-developing-a-battlefield-game-for-2014
"Although they have not yet announced a version of Battlefield for [fiscal year 2015], they confirmed that our understanding is spot on and that if a version of Battlefield were to be released in FY:15, it would be developed by a studio other than DICE," said Pachter. EA's fiscal year 2015 runs from April 2014 through the end of March 2015. Of course, this doesn't mean a different developer isn't working on a sequel to Battlefield 4 for next year. DICE has previously announced Star Wars Battlefront and Mirror's Edge 2 are in the pipeline for the studio. But with two more titles on deck, DICE is facing considerable upheaval over the server issues in Battlefield 4. This week, an EA representative said work on future projects is on hold while DICE sorts out the current problems. wrote:


[ Full reading ]
Comments: 3
Destiny gets a release date

Sat Dec 07, 2013 5:14 pm by Duke
Comments: 1
Statistics
We have 452 registered users
The newest registered user is facciano

Our users have posted a total of 108987 messages in 9558 subjects

December 2013
Mon
Tue
Wed
Thu
Fri
Sat
Sun

1

2

3

4

5

6

7

8

9

10

11

12

13

14

15

16

17

18

19

20

21

22

23

24

25

26

27

28

29

30

31

Calendar
Who is online?
In total there are
2
users online :: 1 Registered, 0 Hidden and 1 Guest :: 1 Bot
Mecha
Most users ever online was
96
on Thu Apr 11, 2013 4:45 am